Massey Ferguson Tractors for Sale in Ghana
Model / Type: Massey Ferguson 375 4WD Horse Power: 75hp Transmission: Manual Engine: 4.41D No. of cylinders: 4 Gear Box: 8 forward, 2 reverse Brakes: Oil-immersed, multi-disc Maximum Lift Capacity: 2,145 kg Colour: Red Extras: Hydraulic Position Control, High P.T.O Power, Spring Suspension Seat,

Read more
Farm Tractors
Why Massey Ferguson Tractors ?
Massey Ferguson is one of the most prominent manufacturers of high-end farming equipment. Massey Ferguson tractors are in the market for over a half-century. The tractors that we offer are of the finest quality and most capability. Massey Ferguson tractors in Ghana are significantly popular due to the fact that they're inexpensive, easily accessible, and can be operated effortlessly with minimum training. There are several climate zones in Ghana from dry to wet, and every region has its own characteristics such as the soil it has the type of land it is, and the overall climate of the country. We supply tractors of different horsepower that best suit your climate zone.
Brand New Massey Ferguson Tractors for Sale in Ghana
We offer a disparate series of Massey Ferguson tractors with varying horsepower which start from 50 to 85 horsepower. These involve MF-240 with 50 Hp MF-260 with (60Hp), MF-360 (60 Hp with Hydrostatic power steering), MF-375 with (75 Hp), MF-385 with (85 Hp), Mf-385 4WD with (85 hp).  This wide variety of tractors are manufactured with the goal to fulfill all the farming equipment needs of the farmers in Ghana. Farmlands vary in size and soil type, we provide tractors suitable for every kind of Farmland specifically in Ghana.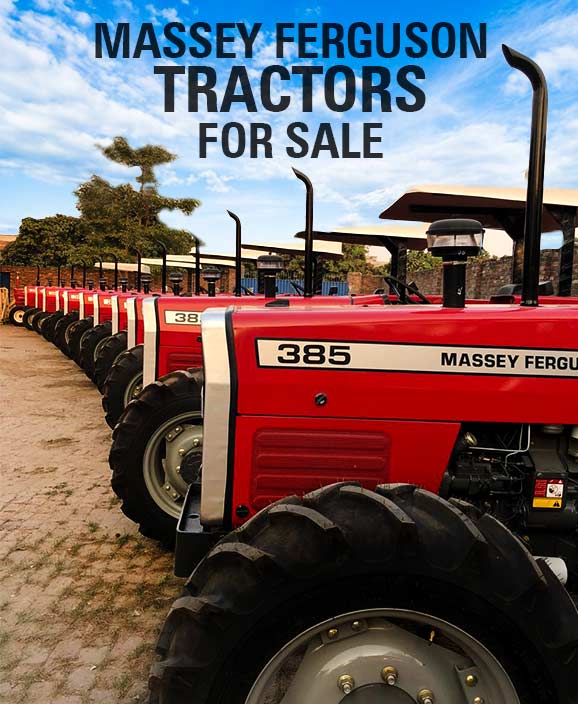 Farm Implements for Sale in Ghana
Farm Implements for Sale in Ghana
Bed shape Planter Specification FRAME: 50X50X6M BOX HITCH: 75X36X6MM LENGTH: 1520MM HEIGHT: 2240MM WIDTH: 2240MM APPROX WEIGHT: 470KGS

Read more

Disc Plough Specification Available from 2-5 discs WEIGHT 550 WORKING WIDHTH 990MM WORKING DEPTH 250MM HEIGHT 1235MMh LENGTH 2130MM POWER REQUIRE 85HP ONWARDS

Read more

Specifications Power Dozer to fit MF 240, 350 Plus, 260, 360, 375, 385 tractors Blade Model MT-08/1=6′ * 22″ -(Single ram) Model MT-08/2=6.5′ * 30″ (Twin ram)  

Read more

Rear Blade Specification Width: 5' – 12' Length: 5ft with wheel 1/2" Reversible/replaceable cutting edge.

Read more

Specifications No of Cutter 104-128 Height with Wheels 6' Length of Drum 4.5' – 5.5' PTO Speed 540RPM Fuel Consumption 7-7.5l/hr Tractor compatibility 50 HP and above

Read more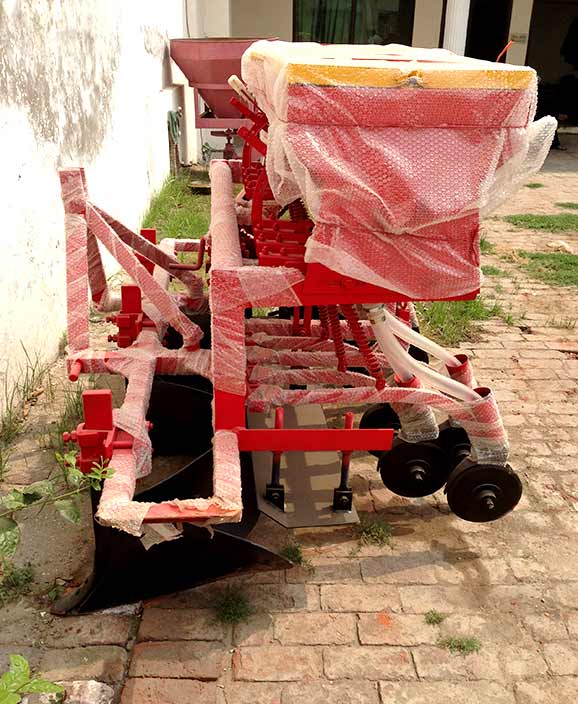 MODERN FARMING TOOLS
Tractor Implements for Sale in Ghana
We offer a wide variety of tractor farm implements that will help you perform multiple tasks. They can be attached to all the tractor models of Massey Ferguson. Tasks like ploughing, fodder cutting, harvesting can be easily carried out using our tractor implements in Ghana. Our aim is to ensure that farmers save money by spending less on labour resources, and get maximum work done with the help of these too quality farm equipment.
The implements for Massey Ferguson Tractors that we manufacture include disc plough, chisel plough, wheat and rice reaper, boom sprayer, cotton ridger and more.
Every country has its own specifications such as soil and land type, land size, climate zone etc. These implements are specially manufactured with the aim to assist the farmers with tractors in Ghana considering the characteristics of the region. For example, disc plough is used on rugged land which has been already used for harvesting and has remained from the previous harvest. Whereas chisel plough is used on land with the only topsoil being fertile, it digs deeper than disc plough which helps the soil underneath to receive the right amount of sunlight, natural air, and moisture.
Testimonials
Testimonials
Clean Quality agricultural machinery in Ghana at affordable prices to meet every budget. Visit Massey Ferguson Ghana for your choice of tractors and discuss your payment plan with them.

Pelet Kwaku

Creative Heads Inc
Very attractive Massey Ferguson tractors dealer in Ghana. They now have providing implements trolleys, trailers, loaders and other farm machinery for your convenience.

Stephen Oliver

Creative Heads Inc
Very friendly and professional staff offering Massey Ferguson tractors at affordable prices for Ghanaian farmers. Also, a good place to buy any type of tractor parts and implements.

Sammo Heron

CTO - C Company